The CTEOS is a statewide survey administered annually for the Chancellor's Office, to assess the employment outcomes of students who have participated in career technical education (CTE) coursework at California Community Colleges. For more information visit our homepage at cteos.org.
2020 College reports are now available! Click here to download.
Click the image below to download the 2020 Statewide Report.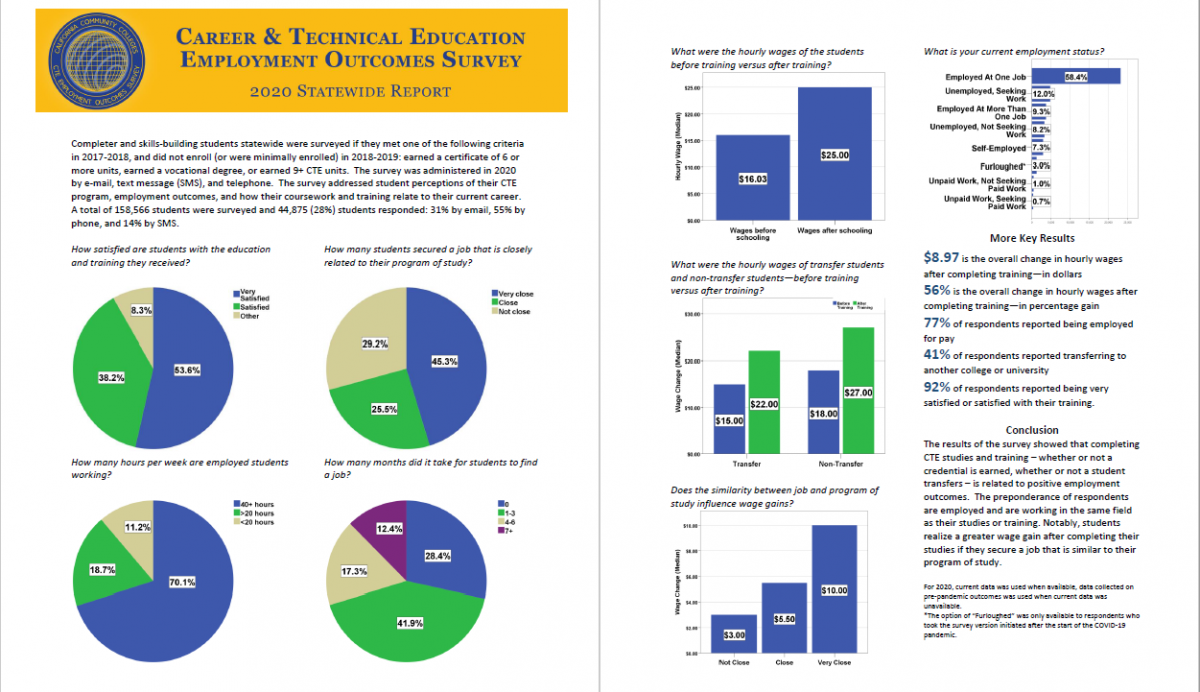 2019 College Reports are now available to download here.
2019 Statewide Report is available to download here.
CTEOS is currently updating its public visualizations.
If you need access to any of the visualizations listed below, please email cteos@santarosa.edu with the visualizations you would like access to.
2019 Data Tables (Statewide and Individual Colleges)
Employment Status
Full/Part-Time Status
Job Search Length
Job-Program Similarity
Local Awards and Earnings
2019 Visualizations (Statewide and Individual Colleges)
​​​​​Survey Modality
Geography, Industry, and Wages
Year-Over-Year Wages by Job-Program Similarity
Satisfaction, Wages
Career Services and Impact on Employment
-------
Legacy (Old) Visualizations
​​​Response Rates by College
Response Rates
Earnings Before and After
Reasons for taking fewer classes
Current Employment Status
Coursework Impact on Employment
Current Job and Job Search
Jobs before and after coursework
Reasons for study
Job search after finishing courses
Disaggregation by Award Types and TOP Codes
2016 Individual College Visualizations